The University of Kentucky subscribes to a selective admission policy. The academic criteria are established by a faculty committee of the University Senate. The admission decision is based on factors, including cumulative high school grade-point average, completion of the pre-college curriculum, ACT or SAT score results, and special talents and abilities.
The university receives many more freshman applications than can be accommodated. Applicants are offered admission on a competitive basis, with those meeting the university's selective admission criteria receiving first offers. Remaining spaces in the class will be offered based on the strength of the student's record, potential for academic success and the University's enrollment goals.
Students wishing to transfer to the University of Kentucky must apply for admission to the university and submit transcripts of previous academic work as required. Your transcript will be evaluated to determine which of your courses can transfer to UK and how they will fit into the requirements of the U.K. CORE program, the College of Arts & Sciences and the anthropology major. Most of your transferred courses will be determined to be equivalent to particular courses at UK and those equivalences can be used later by you and your academic advisor to determine which courses you still need to finish the major.
The mission of the Office of Student Financial Aid (SFA) is to provide financial aid to qualified students who would be unable to attend the University without such assistance.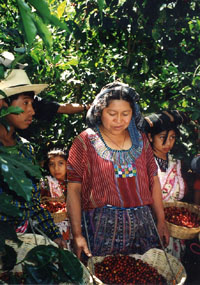 Maria, the wife of a cooperative founder, demonstrating her community's traditional clothing and historical coffee harvesting methods to visiting U.S. coffee roasters (Sololá, Guatemala). (Photo Credit: S. Lyon)
UK Undergraduate Resources