Museum of Anthropology
William S. Webb Museum of Anthropology
The Museum Collections and Research Center is closed until further notice. If you have questions, you may contact museum staff by e-mail, which can be found here
Founded in 1931, the William S. Webb Museum of Anthropology has three primary purposes: to acquire and maintain anthropological collections, support anthropological research, and disseminate anthropological knowledge. The extensive holdings serve to link the past, the present, and the future. The Museum is charged with several responsibilities: to serve a diverse audience, from the layperson to professionals; to preserve significant, irreplaceable objects; and to contribute to our understanding of past and present cultures, especially those of prehistoric Kentucky.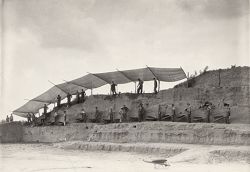 Excavations at the Wright Large Mound, Montgomery County, Kentucky, August, 1938. William S. Webb Museum of Anthropology, Neg. No. 2221.
Exhibits
The Museum maintains a small exhibition area in the foyer of Lafferty Hall.  Exhibits are designed and fabricated by anthropology students highlighting items in the museum's collection.  Currently on display:
The Rise of Modern Archaeology in Kentucky
Odisha: An Unbroken History of an Enduring People
Exploring the Northwest: The Collection of Anthropologist Margaret Lantis (1906-2006)
Collections
The museum encourages professionals, students, and other researches to conduct research on our extensive collections. Access to the collections for research purposes is by application. Contact the Museum Director, George Crothers, for more information.
As of January 1st, 2020 a research moratorium on all Native American and Native Hawaiian human remains, associated funerary objects, unassociated funerary objects, sacred objects and objects of cultural patrimony curated at the Webb Museum will be in effect.  This moratorium will remain in effect until legal compliance under the Native American Graves Protection and Repatriation Act (NAGPRA) has been achieved.  Questions about this moratorium can be directed to the Webb Museum's NAGPRA Coordinator, Dr. Celise Chilcote-Fricker.
Archaeological Curation
The Museum provides permanent curation for archaeological contract projects conducted within Kentucky, student thesis/dissertation or professional research projects, or other research involving archaeological excavation. Museum curation guidelines must be met before projects will be accepted. Curation fees are charged for all contract archaeology projects. Student projects do not require the payment of a curation fee. Fees are negotiable for other types of projects.
Effective January 1st, 2020, The William S. Webb Museum of Anthropology will institute a moratorium on the accession of new materials for permanent curation not to exceed one calendar year. This moratorium will remain in effect while the Museum actively works towards accessioning and curation best practice through policy revisions and the drafting of a formal Museum Collections Management Plan.  The Collections Management Plan will guide the preservation of current and future acquisitions and ensure the integrity of the collections housed at the facility.  In alignment with a formal Collections Policy, the Museum will also be updating its Curation Standards and Guidance for Contractors and revising its fee schedule for collections submitted for curation from private cultural resource firms, state and federal agencies. 
Please direct any questions and inquiries to the Museum Director, George Crothers or Curator, Lisa Guerre.
To curate collections with the Webb Museum:
For curation guidelines, click here.
For Historic Artifact Discard Policy (estabilshed by the Kentucky Heritage Council/State Historic Preservation Office), click here.