Abraham Lincoln School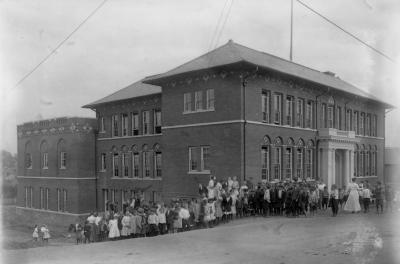 Abraham Lincoln School was opened on West High Street in Irishtown in 1912. The public school, funded by a mixture of private donations and public funds, was a progressive model for elementary education with facilities and programs far ahead of the times. Lincoln also exemplified the era of school segregation in Lexington. Black students were not allowed to attend Lincoln throughout its fifty-five years of service as a public school.
Figure 1: Lincoln School, ca 1912. Courtesy, Louis Edward Nollau F Series Photographic Print Collection, Special Collections, University of Kentucky.
 
Abraham Lincoln School housed students from kindergarten to sixth grade. It was designed as "settlement" or community school with facilities and programs created for children and adults. Lincoln School had a playground, swimming pool, carpenter shop, kitchen, sewing room, rooftop garden, neighborhood laundry, circulating library, and domestic science department. Lincoln played a crucial role in the lives of Davis Bottom residents during the Great Depression. The federal Works Progress Administration supported a free Nursery School and lunch program for area students at Lincoln School. Abraham Lincoln School was closed by the Board of Education in 1967.  After sitting vacant for several years, the building was sold to the Bureau of Highways in 1974 and demolished for the expansion of the West High viaduct.
Figure 2: WPA lunch program, 1940. Courtesy, Goodman-Paxton Photographic Collection, Special Collections, University of Kentucky.
Full article on Lincoln School with incredible historic images.