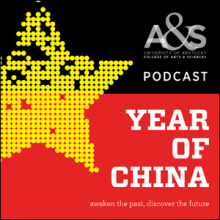 At the end of May 2012, a delegation of faculty from the University of Kentucky went to Shanghai University to promote the American Studies Center, a partnership between UK and SHU. Michelle Sizemore facilitated a group discussion between UK and SHU students about cultural difference, identity, and storytelling across cultures. Four faculty members, Mary Anglin, Frank X Walker, Ron Pen, and Arturo Sandoval presented lectures on Appalachian culture, identity, history, and art. At the end of the three-day event, Cheyenne Hohman got a chance to interview students from Shanghai University about the event. Students reflected on what they learned, what the symposium meant to them, and shared thoughts on ways that the University of Kentucky and Shanghai University could continue to foster meaningful exchange between academic communities. 
This podcast was produced by Cheyenne Hohman. Music in this podcast is a live recording of "Horse Race," performed on erhu by Can Xu and Jie Sun, music students at Shanghai University.

This work is licensed under a Creative Commons Attribution-NonCommercial-ShareAlike 3.0 Unported License.