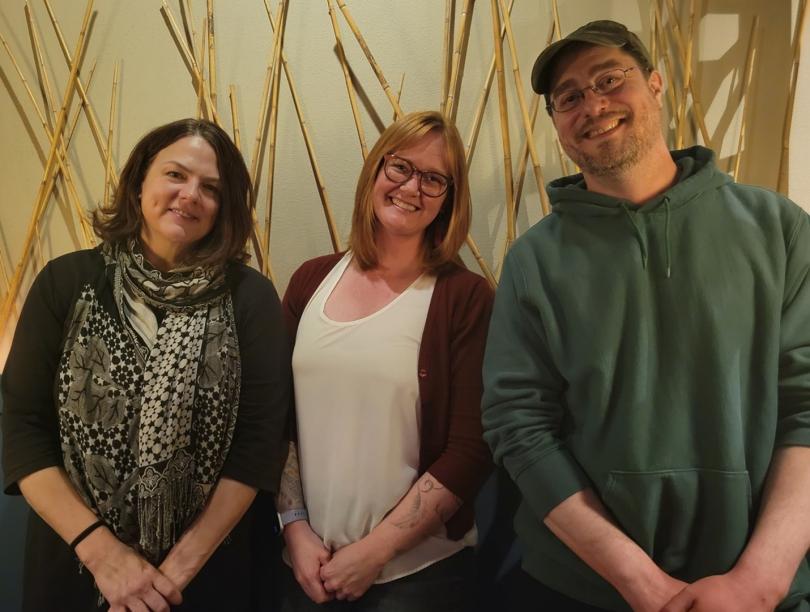 Despite the vast social and geographic distance between Kentucky and Alaska, Elaine Drew (Ph.D. Anthropology '04), Travis Hedwig (Ph.D. Anthropology '13), and Britteny Howell (Ph.D. Anthropology '17) call Alaska their home.
Dr. Drew is an Associate Professor at the University of Alaska Fairbanks (UAF), where she teaches and mentors undergraduate and graduate students in cultural, applied, and medical anthropology. She also directs the UAF Medical Anthropology Laboratory where her research and student training focus on community-based health promotion. Consistent with her dissertation research in Kentucky nearly 20 years ago, she continues to investigate the cultural politics of women's health in the U.S. Her current study examines the structures and cultural logics informing prenatal and perinatal care perspectives and practices among women and health providers in Interior Alaska.
Dr. Hedwig has been at the University of Alaska Anchorage (UAA) campus for 10 years, starting as a post-doctoral research fellow with the Institute for Circumpolar Health Studies (ICHS) in 2013. He is currently Associate Professor and Interim Chair of the Division of Population Health Sciences (DPHS). His work engages with communities to address health inequities across several areas, including disabilities, mental and behavioral health, and homelessness. Current funded research activities include co-facilitating data equity and justice conversations with statewide partners to build more inclusive, responsive, and ethical health data collection and use practices in Alaska, and assessment work for the State of Alaska's Office of Substance Misuse and Addiction Prevention (OSMAP) Fetal Alcohol Spectrum Disorders (FASD) program.
Dr. Howell has been at the University of Alaska Anchorage for five years and is receiving tenure and promotion to Associate Professor in the Division of Population Health Sciences. She is the director of the UAA Healthy Aging Research Laboratory, where her research and teaching focuses on the social experiences of aging, older adulthood, and health towards the end of the life course. Her past needs-assessment work focused on older adults' perceptions of healthy aging in Alaska and determining which aging factors are most important and feasible for people to achieve. Those results led to an NIH grant from the National Institute on Aging, and her team is testing the efficacy of a student-led health promotion program focused on improving older adults' feelings of hope around behavior change and healthy aging.
Healthcare, social, and senior service shortages along with geographic barriers contribute to health disparities that anthropologists are uniquely positioned to address in Alaska. These UK anthropology alumni are utilizing their expertise in community-based research to improve health where they live and work in a place of unparalleled natural beauty.