Why is Anthropology important for you?
1. Anthropology studies ALL humanity in ALL of its diversity - everywhere and in every time.
2. Anthropology majors are hired for jobs in medicine, public health, business, environmental protection, marketing, human resources, forensics, and museums.
3. According to the Harvard Business Review (2009), Anthropology is among the best majors for students looking for jobs in the global economy and the U.S. Department of Labor projects a 21% growth rate in Anthropology jobs between 2010-2020.
4. Anthropology, more than any other social science because of its holistic nature, will help solve our looming global ecological crisis. Come see how.
5. Did you know that the following people were anthropology majors?
Dax Shepard
Kurt Vonnegut
Hugh Laurie
Stephen Riggio (CEO, Barnes and Noble)
Prince Charles
Kathy Reichs (author and creator of Bones)
Dr. Ann Durham (President Obama's mother)
Billy Graham
Ashley Judd (she was actually a minor but that totally counts because she was a student in our department here at UK).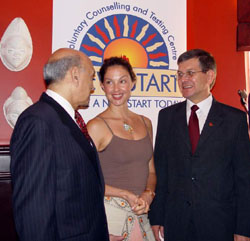 Consul General Moosa Valli, actress Ashley Judd, and W. Cape Health Minister Pierre Ulys at the New Start launch event. (Photo Credit: Wikimedia Commons)