About Anthropology
Welcome to the Department of Anthropology
The University of Kentucky Department of Anthropology offers programs in three sub-disciplines of anthropology: archaeology, cultural, and biological. The department has a strong reputation for research speaking to core debates and discussion in academic, policy, and private spheres. Established in 1927, the department is among the oldest departments of anthropology in the United States. The department has 19 faculty, and 17 affiliated or adjunct faculty in different programs and colleges around campus. Currently, the program has approximately 109 undergraduate majors and 62 graduate students.
For summer 2022, we are very excited to offer the Archaeology Field School (ANT 585), a six credit course with intensive methods training. Click here for the flier and here for more detailed information.
Please explore the links to the left to learn more about the department, faculty research, and programs of study. Below you will find contact information for the department, William S. Webb Museum of Anthropology, Office of State Archaeology, and the Program for Archaeological Research.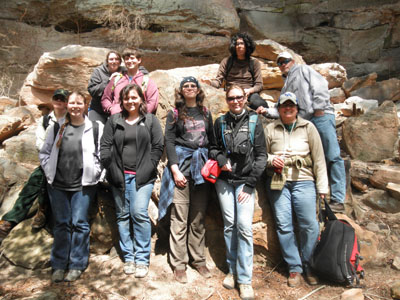 "Food Pathways in Ancient and Modern Times" (ANT 350) field trip to Cloudsplitter Rockshelter, Red River Gorge, Menifee County, Kentucky, Spring 2016. (Photo Credit: R. Bonzani)


Departmental Address
Department of Anthropology
211 Lafferty Hall
University of Kentucky
Lexington, KY 40506-0024
Phone: (859)257-2710
FAX: (859)323-1959
Department Chair: Dr. Scott R. Hutson
Museum of Anthropology Address
William S. Webb Museum of Anthropology
211 Lafferty Hall
University of Kentucky
Lexington, KY 40506-0024
Phone: (859)257-1944
FAX: (859)323-9866
Museum Director: Dr. George Crothers

Office of State Archaeology Address
Office of State Archaeology
1020A Export St.
University of Kentucky
Lexington, KY 40506-9854
Phone: (859)257-1944
FAX: (859)323-9866
State Archaeologist: Dr. George Crothers