Medical Anthropology Concentration at the University of Kentucky
The concentration in medical anthropology at the University of Kentucky provides formalized theoretical and methodological training for graduate students interested in critical, cultural and biocultural approaches to the study of health, medicine, and the body. Faculty and students focusing on medical anthropology share broad interests in cultural, historical and political-economic conditions of illness and well being, as well as the production and distribution of biomedical knowledge. Participants in the program share a fundamental concern with the study of social forces in health inequalties, and everyday experiences of individuals and communities encountering or contesting them.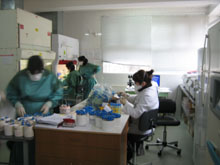 Laboratory technicians processing diagnostic tests at the National Tuberculosis Reference Laboratory, Tbilisi, Georgia. (Photo Credit: E. Koch)
Departmental faculty expertise includes critical studies of health; science and technology studies; the intersection of gender, race, ethnicity, and nationality with health; global health; and epidemiology and public health among contemporary and prehistoric populations. Core faculty research interests include women's health and community based activism; infectious disease; emerging disease and technologies; chronic diseases; nutrition; child health; paleopathology; environmental influences on health; and global health standards and policies.
Students enrolled in the medical anthropology concentration will work with core faculty to develop specialized training. They will also complete requirements defined by the broader graduate curriculum, and are encouraged to pursue topics that intersect other areas of departmental expertise. Medical anthropology students may elect to participate in Graduate Certificate Programs in other units on campus, including the Department of Behavioral Science (College of Medicine), Gender and Women's Studies Department, Appalachian Studies, Latin American Studies, and the Program in Social Theory (College of Arts and Sciences).
Medical Anthropology Faculty
Erin Koch: Medical anthropology, ethnography of science and technology, globalization and health, infectious disease, displacement, humanitarianism, the state; Georgia (country), former Soviet Union, the U.S
Heather A. Worne: Bioarchaeology, paleopathology, epidemiological transitions, Southeastern North American archaeology, forensic anthropology, biocultural anthropology, taphonomy
Affiliated Faculty
Lee Blonder: Department of Behavioral Science, College of Medicine.
Medical anthropology, brain and behavior, evolution of language, emotion and psychopathology.
Nancy Schoenberg: Department of Behavioral Science, College of Medicine.
Medical anthropology, health and aging, chronic disease management, qualitative methodology; North America.
Jean Wiese: Department of Behavioral Science, College of Medicine.
Medical anthropology, communications, response to illness; Caribbean.
Medical Anthropology Courses
Gender, Ethnicity, and Health
Advanced Seminar in Medical Anthropology
Critical Studies of Epidemiology and Public Health
Global Health: People, Institutions and Change
Biomedical Technologies and Power
Culture, Power and the Body