Undergraduate Anthropology Program
The Department of Anthropology offers opportunities to learn about the diverse people of today's world, as well as about their biological and cultural origins. This area of study deals with ecology, society, biology, culture, health, and language, among other aspects of human life. In addition, anthropologists study history and evolution in both a cultural and biological framework.
Anthropology provides an excellent foundation for careers in a variety of professions, including medicine and health services, planning and community development, international relations and development, private business, government, law, journalism, museum work, and university teaching and research.
Students can major or minor in anthropology. The major is structured to provide the student with a broad overview of the major subdisciplines: cultural anthropology, biological anthropology, and archaeology. It also allows sufficient flexibility for a student to concentrate on a specific area of interest.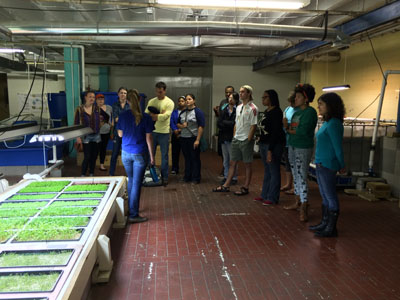 Senior Seminar (ANT 582) class field trip to Food Chain non-profit organization (Lexington), October 2015. Anthropology Majors (left to right): Kay Cochran, Molly Barnette, Rossi Clark, Johnathan York, Kymber Berrow, Lacey Lansaw, Bobby Jenkins, Justin Goff, Gabe Pike, Essence Carter, (unidentified), Mariah Francis, Christina Zeidan. (Photo Credit: L. Cliggett)
More Information:
For additional information on major or minor requirements or other questions, contact the Director of Undergraduate Studies, Dr. Juliana McDonald, jmcdo2@uky.edu, (859) 257-2710 (leave message).
Please consult the Office of the Registrar Bulletin/Course Catalog for a complete description of requirements and procedures. Anthropology major and minor requirements are outlined on the links at the top of the page.