Anthropological Archaeology
The primary regional focus of the department's archaeology program is on the Americas, especially Eastern and Midwestern U.S. and Mesoamerica. Current students, however, are also engaged in research in the Southwestern U.S., Southern Plains, and both lowland and highland South America. Faculty and staff have a broad range of experience from the eastern seaboard to the Rocky Mountains and from the northern Plains to Central America. Although faculty have a diverse range of technical expertise and theoretical interests, they share a common interest in peoples and cultures of the New World from the Late Pleistocene through early historical times.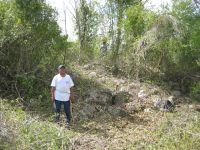 Clearing a stone mound in preparation for mapping at the archaeological site of Ucí, Yucatan, Mexico.

Photo by Scott Hutson.
In addition to couses in the Department of Anthropology, many students take courses or seek outside committee members in the departments of Geography and Geological Sciences. The archaeology program has also recently added a full complement of geophysical instruments to aid in field research. See the corresponding technical research and teaching concentration in Archaeological Geophysics.
The William S. Webb Museum of Anthropology is also the primary curatorial facility for archaeological collections from Kentucky. While the museum contains approximately 8,000 individual collections, the largest and best known date from extensive WPA excavations in the 1930s and 1940s. Many UK graduate students incorporate analysis on materials in the collection into their thesis or dissertation research. In addition, approximately five to ten researchers per year from all parts of the U.S. and many international institutions request access to these collections to conduct bioarchaeological and artifactual analyses.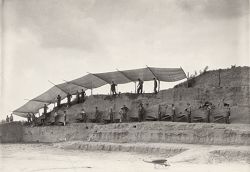 WPA excavations at the Wright Large Mound, Montgomery County, Kentucky, August, 1938.

William S. Webb Museum of Anthropology, Neg. No. 2221.

Archaeology Faculty
Other Research Staff and Adjunct Faculty
Steven R. Ahler
Midwestern and Midsouthern U.S., Archaic and Late Woodland periods, lithic analysis, settlement patterns
Renée M. Bonzani
North and South America, paleoethnobotany, origins of agriculture, hunter-gatherer societies, economic interaction and ethnobotany
A. Gwynn Henderson
Eastern U.S.; small-scale, middle-range egalitarian societies; ceramic analysis; Native American history; archaeology education, public outreach, and site protection/preservation
Kim A. McBride
Eastern U.S.; historical archaeology, anthropological study of population, Euro-American community studies, anthropological theory, historical preservation issues
David Pollack
Eastern U.S.; ceramic analysis, settlement/subsistence patterns, social and political organization, Cultural Resource Management, mortuary patterns, Geographical Information Systems
Selected Graduate Courses

Required
ANT 610 - History of Anthropological Theory
ANT 650 - Theory in Archaeology
ANT 651 - Archaeological Data Analysis
ANT 662 - Research Design
Other
ANT 555 - Archaeology of Eastern North America
ANT 580 - Advanced Topics: Archaeological Geophysics
ANT 652 - Demographic Archaeology
ANT 653 - Prehistoric Economics
ANT 654 - Archaeology of Political Systems
ANT 770 - Topical Seminar: Ethnoarchaeology
ANT 770 - Topical Seminar: Geoarchaeology
ANT 770 - Topical Seminar: Hunter-Gatherer Societies
ANT 770 - Topical Seminar: Emergence of Cultural Complexity
ANT 770 - Topical Seminar: Mississippian Chiefdoms
ANT 770 - Topical Seminar: Middle Range Societies of Eastern North America
ANT 770 - Topical Seminar: Archaeology of Identity
ANT 770 - Topical Seminar: Space Place and Landscape
 
Selected Research Programs
Green River Human Paleoecology Project (Kentucky)
Mammoth Cave Archaeological Project (Kentucky)
Research collections of the WPA archaeology program in Kentucky
Sapelo Island Mission Period Archaeology Project (Georgia)
Tres Zapotes Archaeological Project (Veracruz)
Research Sponsors Have Included
Earthwatch Institute
Institute of Museum and Library Services
Kentucky Heritage Council
National Geographic Society
National Park Service
National Science Foundation
For further information on the archaeology program and the Department of Anthropology, please contact any of the archaeology faculty or call 859-257-2710.