Applications and Admissions
Information for Prospective Students
Lexington, Kentucky is a vibrant and growing city located within a day's drive of two-thirds of the population of the United States. The city has a low cost of living compared to many comparable cities and our graduate T.A. and R.A. stipends are higher than those paid at many of our benchmark institutions. The majority of our eligible Ph.D. students are funded through various sources, including teaching and research assistantships, for three or more years and there are special fellowship opportunities for those who qualify (for example, many minority and first-generation Ph.D. students in our department have Lyman T. Johnson fellowships), making this a very affordable place to attend Graduate School.
Some of the features that distinguish our graduate program include: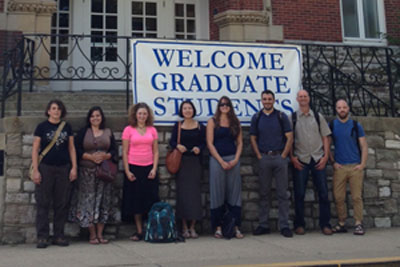 Ph.D. Program in Anthropology
The department of anthropology welcomes applications from interested students. We encourage potential students to contact individual faculty members and/or the Director of Graduate Studies for more information about our program prior to applying. Our application deadline is January 1st. Please see a description of our program and degree requirements under the Graduate Curriculum. For an overview of the types of research conducted by Ph.D. candidates in our program please see a list of recent dissertation titles.
M.A. Program in Applied Anthropology
Since its inception in the 1960s, the graduate program has been nationally recognized as a leader in applied anthropology.  We define applied anthropology as research with practical application and impact, but anchored in a rigorous foundation in anthropological theory and method, whether from cultural, bio-cultural, medical, or archaeological perspectives. With grounding in core anthropological theory and method, we train our students to be skilled researchers who can traverse both academic and non-academic settings, bringing to their research a sound intellectual base, and skills for application and practice. The M.A. program offers concentrations in archaeology and cultural anthropology. Our application deadline is January 1st.
Application Procedures
All applications for graduate study at the University of Kentucky Graduate School must be submitted on-line. For materials required for application please consult the Graduate School web site for more information. Please note: the application deadline for both programs for Fall 2018 admission is January 1, 2018.
Please be sure to consult the Anthropology program requirements prior to applying. Department standards for admission to graduate work in anthropology include an undergraduate grade point average of B or better, satisfactory Graduate Record Examination scores, completion of a separate departmental application form, and three letters of recommendation. Consult the Graduate School web site for additional information on departmental requirements and opportunities for financial assistance.
For more information or questions on program requirements, please contact the Director of Graduate Studies, Dr. Sarah Lyon, at sarah.lyon@uky.edu or by telephone at (859) 257-5038.